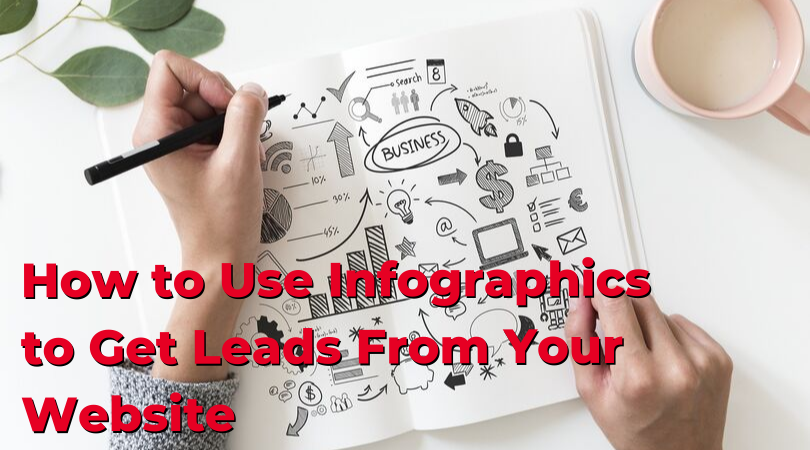 August 27, 2019,
Are you interested in improving your marketing skills? If yes, you must know how generating leads is one of the most important objectives of a developing business. 
Using infographics on your website is one sure way to generate leads successfully. This popular marketing tool visually represents your data to make your content more effective and influencing.
Since leads help you target the right audience for your company, infographics play a huge role. Statistically, infographics get 30 times more reads and 94% more clicks on your website. Compared to old boring articles stuffed with information, infographics sure seem to be much more profitable, don't they? If you have not used infographics yet as a business owner or content marketer, I guess it is time to start.
How to Use Infographics to Get Leads from Your Website?
If you don't know how to use infographics, well, we have got you covered. Read the following guide to learn why we have been rambling about the magic of infographics. 
Design Intriguing Infographics
Infographics help you transform boring lengthy reports into visually pleasing pieces of data. According to a study, people are 80% more inclined to reading and remembering colored visual content than any other.
To make it easier for you to understand, infographics are a story-telling medium that attracts customers to the main source, that can be your landing page or the blog section of your website. 
Simply put, your infographics stand out from the rest. You can do so by adding personal elements, highlighting essential points, and adding engaging parts to grab the reader's attention.
To help you out, we have listed a few steps to help you create exceptional infographics.
Firstly, you should gather information about the subject. Make sure to research deep to collect all relevant information.

The next step involves visualizing the data. Infographics only contain selected information that engages and encourages the audience to read more. As a result, you end up generating leads to your website. Make sure to visualize your data in a chronological story form.

Next, you have to build an outline of your story. You should focus your attention on headlines and write out all the details.

Sketch out all your details in a flowchart to analyze the final structure.

Lastly, you have to design your infographics. Apart from hiring a professional designer, you can even make use of multiple tools to create your final result. These include

Canva

,

Visual.ly

,

Venngage

, and

Visualize.

 
Write a Blog Post
After creating an intriguing infographic, isn't it important to showcase it on an ideal site? For this purpose, a blog can be a good platform to get attention. Since the infographic has been created to speak volumes in a visually pleasing form, writing down a small paragraph above it should be more than enough.
Therefore, the only thing that you should focus on is the title. It has to be optimized and interesting enough to grab your reader's attention, encouraging them to engage with it. You also want people to find it within their search criteria, so SEO optimized content around your infographic is a good idea.
Optimize With SEO
The one drawback to infographics is that unlike other web pages, Google can't rank them. Basically, they are not crawlable. Any ideas, why? Well, it is because they are not text files. You save them as an image file like jpg and gif which search files cannot rank.
Fortunately, we have listed down some tips and ways that allow you to optimize them for search engines.
You can name your files appropriately since Google uses them to determine its content. Instead of using generic names, choose one that displays the content of your infographic. They may be about marketing opportunities or digital stats.

To make your infographic search engine friendly, optimize the URL to be short yet informative. On this end, add about five words which include keywords and the name of your brand. Consumers are more likely to click on your pages with such URLs.

You can even utilize Meta descriptions to describe your infographics to your users. Make sure to add a few keywords in it.

Besides all this, a short informative introduction to your infographic is helpful for customers and search engines, both. All of these help with SEO.
Promotion on Social Media
Studies have shown that infographics are shared three times more than any other content. You can generate more leads by sharing them on multiple social media platforms. 
This helps you gain new customers for your business and gives a boost to your credibility. The more shares it gets, the more people find it to be authentic and useful.
If this was not enough, shares on social platforms improve your rank on Google by leaps and bounds. So how do you share your infographics cleverly to get the most impact? For this purpose, we have listed down some tips.
Instead of just posting the infographic on your website, you have to promote it on other platforms too. One way is to include an embedded code which allows other websites to showcase your infographics on their pages. Consequently, these codes will create a backlink to your website.

Adding sharing buttons have proved to be quite useful. Start with sharing them on your accounts and then use apps like

AddThis

to add buttons to your infographics.

 

Besides these, you can even divide your infographics into ready-made sections for social media posts. Consider dividing them for apps like Facebook, Pinterest, and Twitter. For example, you get

150% more retweets

on tweets with images compared to those with only texts.
Add a Call-to-Action
Another feature essential for generating a lead is call-to-action. When you put up this option, you ask your readers to further engage with your content by either signing up to a newsletter or by filling a contact form. You can create one by using HubSpot marketing software, linking your infographic to your landing page.
It is best to put up your CTA button directly on the infographic or on the landing page where you have linked your infographic to.
Conclusion
According to Demand Gen Report, infographics can help increase web traffic by 12%. If you are looking to expand your business and make it more successful, it is very important that you include infographics. Not only will it maximize your traffic by generating more leads, but it is bound to give you more credibility.