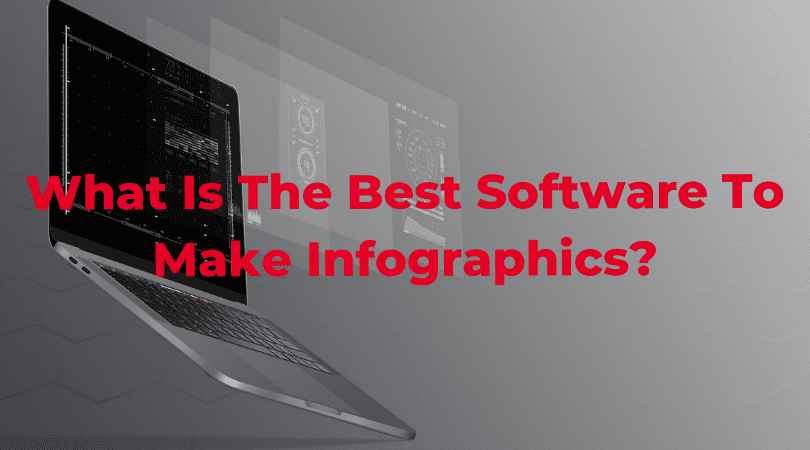 May 20, 2019,
Today, there is just too much information for internet users to look over let alone grasp. Many visual aids like videos and gifs make a good alternative to plain static text but then again not everyone has time to sit through a presentation.
Infographics can bridge the divide between your ability to present information and your audience grasping its context and subtext.
Infographics work well for this purpose because they use engaging visuals and fonts to explain complex concepts and information. It is also easy for a user to come back later and use it as a reference.
The lax nature in which we approach infographics makes it seem like coming up with quality infographics is easy. However, it is actually quite a complex undertaking; you will need a little help to get the best result.
So, which software should you use to make infographics?
Well, here are some of the best premium and free software you can use to create your own infographics.
1. Canva
Canva is a powerful freemium online design tool that you can use to make stunning infographics as well as other design products like brochures, posters, fliers, banners and many more. It is easy to use with intuitive ways to edit elements and it takes you just half an hour to put together an infographic.
You can unlock more features by paying for the premium version and they offer very affordable temples as well as a vast library of elements. However, even with the free version, you can still get a lot done.
Price: freemium, $12.95 monthly subscription 
2. Easel.ly
Easel.ly is an easy to use web-based infographic creation tool. It offers a seemingly endless choice of easy to customize templates. They even have a searchable library of elements that you can pick from to add a little zing to your infographic presentation. You can add backgrounds, texts, characters, chart and many more.
They also have pro accounts if you want more out easel.ly but the free option will give you enough options at the start.
Price: free, with pro accounts available
3. Venngage
Venngage like canva offers templates for more than just infographics. You can use it to make things like banners, posters, reports and many more. It also has various nested sub-categories for a greater variety of infographics than any other software has to offer. You can get themes for comparison, charts, timelines, etc.
When you find an appropriate template you can go further in customizing it with widgets that can include a diverse range of elements like charts and maps.
Price: free 
4. Visme
Visme was created with the marker and his/her need to communicate more effectively. Their major selling point is their promise to help you "speak visually." Using this powerful tool, you can build engaging presentations that will capture attention. It is packed with free features like over 100 fonts, millions of images and icons.
You can also add video and audio directly on to the editor and animate element to make the presentation more appealing. You can have a ready infographic within minutes thanks to visme's easy to use drag and drop features. This tool is a joy to use even for non-designers.
Price: free with paid options
5. Piktochart
Piktochart enables you to transform boring static information into eye-catching and engaging infographics in a few clicks. You have free reign in modifying color schemes and fonts, add pre-loaded graphics, as well as upload your own visual elements like images and shapes.
It features grid-lined templates that offer an intuitive for you to align elements and make proportional adjustments.
Price: free with paid plans
6. BeFunky
BeFunky is a free online photo editor and collage maker that includes infographic-making tools. The infographic making tools have a simple to use drag and drop functionality to them just like the rest of the software. It can also fetch free images from Pixabay's image library saving you the time and effort of searching the internet.
The major drawback is the fact that the free version has only one template. However, if you want more templates you can get more with BeFunky Plus. In case you are stack, they also have a comprehensive tutorial section with detailed explanations on how to work with the tool.
Price: BeFunky free, Befunky plus $6.99/mo
7. Biteable
Biteable is a powerful infographic creation tool that enables it is users to create and share HD quality video infographics for free. You can share the content you create on sites like you YouTube, Facebook, and Twitter.
This tool also offers a wide variety of pre-made assets like soundtracks, background images, and other visuals. With a paid plan you can download your and store them in your account or on an offline source for use in other places.
Price: free and paid options
8. Animaker
This is mainly for use in creating animated videos but it has very intuitive options and tools for building animated infographics. It has a large library, which has plenty of scenes, icons, images, and animated characters that users can pick when creating a presentation. Though the process is straightforward, you can quite sometime before you came up with anything final.
Animaker can also present a few learning curves for anyone that has never worked with video before. However, with a few tutorials, you can confidently use it to wow your audiences.
Price: free with paid options
9. Adobe Spark
Adobe is one of the big boys in the audio-visual editing game with their Adobe cc master suite of software. Adobe spark is another suite of free online design tools that allow you to make anything from banners to videos to web pages. It simplifies every process that you might have.
When it comes to creating infographics you can create beautiful presentation thanks to; a variety of professional fonts you can choose from, professional themes, awesome layouts, color choices and you can take advantage of adobe creative cloud or lightroom cc for managing your images. You can also upload images from your Dropbox or google photos.
Price: Free
10. Snappa
Snappa is primarily a graphic design tool that has free and intuitive built-in infographic making tools. Since it was mainly intended for non-graphic designers, the limited control some of its tool offers you while editing visual elements might frustrate you. This is still a great tool to use as you can create social media optimized infographics in just 10 minutes.
It offers many templates that you can customize with drag and drop functionalities on an intuitive interface. You also have access to a huge collection of high resolution, royalty-free imagery. You can get five free downloads each month and upload to 2 social media accounts on the free plan. However, if you want unlimited downloads and more features you will have to get on their paid subscription plan.
Price: Free with paid options.
11. Mind the Graph
If you have, scientific data to present look no further. Mind the graph is the go-to infographic for creating compelling Illustrations to represent boring data found on scientific papers that ordinary people might find too drawn out to keep on reading. It provides a variety of handy layouts that you can edit and customize in a straightforward manner with plenty of visual illustration to add some appeal.
It also packs in thousands of icons can be useful for more than scientific presentations. You can also use it for all manner of wordy presentations like journal papers or oral reports. It also has an online updater and image editor so you can make instant changes whenever you need them.
Price: Free
12. Infogram
Infogram combines many graphs, charts, maps, an image and video uploader to give a cool infographic creation tool. It has an excel-style interface that you use to enter and edit data. Infogram makes visible changes as you adjust your data, making it feel very intuitive. Once you are pleased with your results you can publish in on Infogram, add it to your site via embedding, or share it to any social media platform.
The basic functions are free to use and it has a variety of premium options that will give you more choices in customization and porting the finished infographic.
Price: free, Pro ($19/mo.), Business ($67/mo.), Team ($149/mo.) and Enterprise (priced on request).
To Sum it Up
Unlike before, you don't have to have advanced knowledge in graphic design, animation, and audio-visual production in order to create infographics in this digital age. All you need is an eye for detail and a decisive mind. That coupled with one of the many available infographic creation software out there. This gives you more time to focus on the quality of your content and strategies on how you will get the word out to more people.
When looking for the best infographic making software for you, look at its core function (for graphic design, scientific presentations, or animation) and consider if it fulfills all your needs.
You will also notice that most of the software on this list have free versions. Ensure that you use a couple of these trial versions before you settle on which premium version to purchase.
We also put together an article about how to make an infographic in Microsoft Word – but we'd recommend literally any of the softwares above over Word.