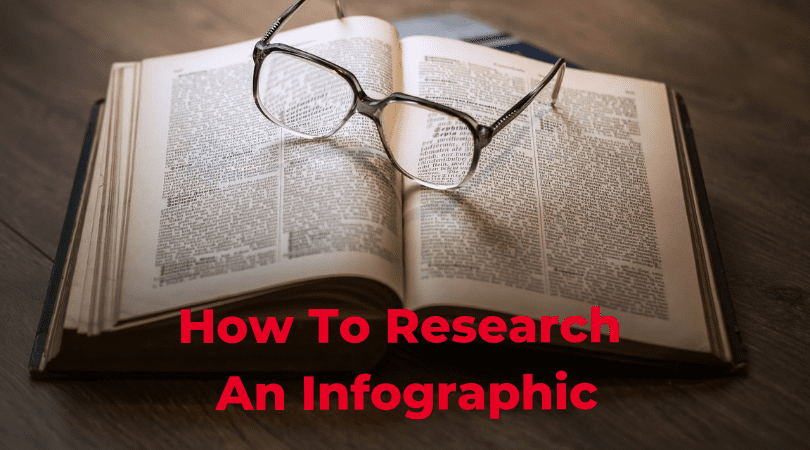 May 22, 2019,
The success of any infographic relies on the quality of information it offers. To make your infographic really stand out, you will need to do proper research first.
There are 4 factors that make a successful infographic; a great idea, proper research, exceptional production, and intelligent outreach.
But of the four parts of an infographic, research forms the basis and it spearheads the course of the infographic. For instance, it's not a surprise to find poorly designed infographics performing greatly simply because the research was strong and solid.
Regardless of your idea, it can only be well conveyed if you have a solid argument and abundant data. Without proper research, the end product may not meet your expectations.
However, many people find researching quite difficult. If you are among them then this quick guide is for you. The article will take you through the important steps on how to research an infographic.
How to Properly Do Research for an Infographic
1) Know Your Audience
Before you begin to do any research on your ideas, it's important to identify who your target audience is. To do this, you will need to conduct market research to avoid limiting yourself to one piece of content. Market research will enable you to understand the impact that the infographic will have on the audience.
There are two major parts of market research that you can use to collect useful information on your topic: primary and secondary research. The primary research is focused on getting first-hand information about your market. You can use phone interviews, online surveys, focus groups and more to get the challenges that your audience face then offer solution to the challenges.
The secondary research involves using data available to draw conclusions about your market. This entails sales data, industry content, market statistics, and trend reports.
To understand your audience better, here are some of the questions that you need to answer:
Who consumes the information you provide?
What are their job roles, age, and demographic behavior?
What do you want to achieve with the infographics?
Do you want to evoke emotions? If yes, which ones?
Tool
Google Images: Google is a great search tool that you can use to find out other infographics available on your topic. You can then do a reverse google image search by dropping the topics on the search bar to see which sites are linked to the graphics. Do the sites have anything in common? Also, try to find trends that you can use in your research.
2) Figure Out The keyword(s)
The next thing to determine after finding out your target audience is what they are searching for precisely. You can start by looking at broad topics and possible search terms, then try to narrow the research to specific terms.
For more info about SEO for infographics, check out our previous article.
Tools
Google: When you search for a certain keyword using Google, the search engine normally lists the popular search terms at the bottom of the results page. These related search terms are useful in giving you hints on what your audience is searching so that you can improve your infographic research.
Google Trends: Google trends enable you to observe the evolution of search terms over time. If the search of a keyword is increasing then you should consider crafting content around it.
Google AdWords Keyword Planner: The tool gives you the search volume of your picked term and how it compares to other similar terms. You can use it to determine which keywords or long-tail keywords are most searched by your audience.
3) Use Recent Data
After investing your time and resources when researching and coming up with a great infographic, don't forget to include recent data. Recent data will encourage other sources to reference your graphic after you publish. A rule of thumbs is to stick to data that is within 1 to 2 years old to ensure that the content remains relevant several months down.
Make sure that whatever data you use is cited properly!
Tools
Google Advanced Search: This tool enables you to narrow the timeframe in your search results to feature only the most recent information. You can increase the time range until you find useful info. The feature also allows you to filter the search results as per the time the articles were posted and with respect to their domain i.e .com, .org, .edu, .gov and more.
4) Look for Data Which Can Be Visualized
As you research, try to find data that can be turned into visuals. For instance, numbers like survey results, percentages, which change over times are easy to visualize using charts or graphs.
You will be looking at the categories within your data which can be visualized using illustrations or icons. Try to find out if the multi-step process can be converted into a mini-graphic.
Once you have your research findings, begin analyzing them with the perspective of an illustrator. Ensure that there is a balance between the data that has to be written out and that which can be visualized.
There are many free and paid softwares that you can use to create your infographic.
Tools
Canva: Canva is a great tool that you can use to design your infographics. Besides, you can still use this tool to experiment even if another person will be designing the infographics. It enables you to determine how easy or hard it is to visualize your data.
5) Lay Out A Story Using Your Data
When you feel like you have collected enough data to use, try to create a story that you expect your graphic to tell. A great way to do this is to write the data points down arranging them in an order that you wish to visualize them in the infographic. You can then try to gauge if the story makes sense if it doesn't then you need to look for more data.
If any of your data points are not clear like in your visualization then it may not be the right data point or it doesn't fit the context. If you get stuck trying to graft the story then try going back and researching to come up with useful data. Always keep in mind that you should fill in using as less text as possible to avoid creating a potentially incorrect or visually unattractive infographic.
Tools
Trello: Trello is an organizing and planning tool that allows you to cards that can be moved around as you organize them in a certain way. Try to storyboard using the tool by crafting cards having different statistics then use them to create an impression of your infographic.
Index Cards: When using this tool, you may need to get crafty. However, it is one of the best methods that can be effective in coming up with an infographic. Write down the important points of your story on the cards and lay them on your desk as you try to create an idea of how your infographics should flow.
6) Pick A Provocative Fact for Anchoring Your Infographic
Powerful infographics are packed with fascinating data that is well shown. Provocative data triggers an emotional response from your audience which drives them to share your infographics. This includes content that scares, delights, saddens, disgusts or shocks. So, if you can come up with content that prompts feelings, dominance, and arousal then there are high chances that it'll go viral.
Additionally, research shows that infographics that generate positive emotions can go viral easily. The content which provokes negative emotions with a perfect combination of dominance and arousal still has a chance to go viral as well.
When crafting your infographics, come up with data points which get to the core of your topic thereby hooking the reader and igniting the emotions making them share your content. You can then use the hook as the visual focal point in your infographic and let the whole story revolve around it.
Tools
Google: To avoid repeating what's already available online, you should try to find out what makes your idea stand out from the rest. This means that you ensure that you cover on an aspect that is not covered yet.
7) Get Feedback
While getting feedback may look obvious, it is a crucial step that determines if your research stage is over. It also signals when you should start writing and designing the infographics. Before you present your design proposal to your client or manager, you should ask your peers for their views. Here are some of the questions that you can ask.
Is the hook of the infographic captivating?
Are there any points that need more explanation?
Does the story properly flow?
Getting feedback also enables you to identify certain points of weaknesses that may need more clarification through fact-finding.
Tools
Google Drive: Google Drive enables your team to give feedback on the images and document and even leave comments.
PDF Preview: PDF Preview enables you to edit and share images files with your team members for feedback. The team can delete items and add comments on the infographics and share with you their views by sending JPEG and PDF files.
Conclusion
When researching an infographic always remember that great data lays the basis of the success of your infographic. For this reason, invest your time and effort to find recent, relevant and credible information. Additionally, remain open to ideas that come along the way as you craft your story and don't just stick to one strategy.
If you're a beginner then this guide on how to research an infographic will suit you. Follow the steps carefully and maximize the tools to come up with visualized content that is tailored for your audience.